Tropicana Field Seating Chart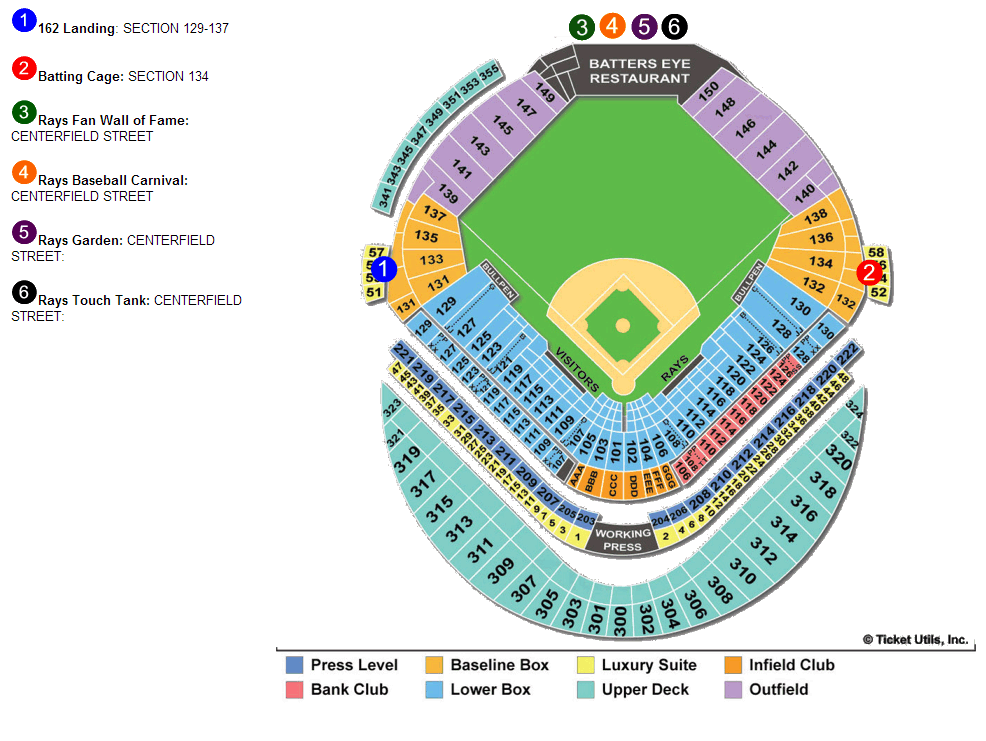 NOTE: Seating layouts may change depending on the event. Make sure you check the individual seating map when selecting your tickets.
Even-numbered sections are on the right field side of Tropicana Field's seating bowl where the first base is. Where else, odd-numbered sections are on the left field side of Tropicana Field's seating bowl where the third base is. When sitting in your seats and looking at the field, seat No. 1 is to the left in all sections.
Rays Club
The Rays Club is located on the Club Level of Tropicana Field, just below the suites. Club ticket holders can watch the game live from the first base line or from any of the dozens of flat-screen televisions.
Premium benefits for Rays Club Season Ticket Holders include an all-inclusive buffet, bar service (beer, wells, wine, and soda are complimentary), private restrooms, complimentary parking with the purchase of two or more season tickets and a premium priority number for relocations.
Group discounts are available in the Rays Club for 10 or more people.
Left Field Ledge
Seats are overlooking Left Field and seating arrangements are in private tables of 4. Peanuts, popcorn, pretzels, and in-seat delivery of complimentary beverages, including Coca-Cola products, beer, and wine, are all included in the ticket price.
DEX Imaging Home Plate Club
The seats in this luxury seating area are among the closest in the ballpark, starting only 50 feet from home plate. DEX Imaging Home Plate Club Season Ticket Holders receive in-seat service, complimentary food, and drinks. Ticket holders are also given access to the Rays Club and to a private dining area inside the Rays Club.
Dugouts and Bullpens
The Tampa Bay Rays Dugout is located in front of sections 112-118. Where else, visitors' dugout is located in front of sections 111-117.
The bullpens at Tropicana Field are located on the first and third baselines in foul territory on the same side as the team dugouts.
What are the best seats at the Tropicana Field?
Other than the club seats, any seats around the infield will offer great views of the game, and loyal Rays fans will tell you that even the nosebleed seats offer great views. Furthermore, if you are looking to get rowdy at a Rays game, the Captain Morgan Deck next to section 149 would be the right place to be in.
Reserve your seat and order your tickets today! Visit the events page to get started.
For more information on the ticket policy and the preferred ticket provider please view the Tropicana Field tickets page.
For all upcoming events at the Tropicana Field please view the Tropicana Field events page.